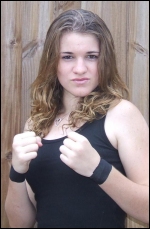 Jelena's Profile...
How It Started: I have always watched wrestling and I know that comes from my dad because he always watched it when he was a little kid! My mom wasn't a big wrestling fan when she small...but then she met my dad when they were teenagers and he got her hooked too. She remembers her grandpa watching wrestling on TV (in black and white!) and she didn't understand why he liked it so much. But now she sees me wrestling and she says: "Wow, I wonder what grandpa would think about his own great-granddaughter being a wrestler?!"
Gimmick: Jelena is a very over-the-top kind of girl who doesn't like to break the rules. She may be a little hyper, but she's also sweet, cute and outgoing.
Wrestling Style: I am a very "on the ground" technical wrestler. I like to keep it on the mat and OLD SCHOOL!
Gear: I usually wear blue jean shorts, a tattoo tee-shirt and kick pads.
Titles Held: SSCW Georgia Women's Champion (1x).
Biggest Win: My biggest win will always be when I won my first title and got to hold it up for the first time. Down the road you may forget your second or third win...but you always remember your first title.
Worst Loss: Every loss is a bad loss, but I don't think I have had a worst loss yet. I guess when someone stops me and takes my belt, that will be my worst loss.
Favorite Type of Match: I love No-DQ matches. I also like tag matches, because you get to have someone on your side to fight with you. That's always fun.
Favorite Moves/Holds: I love all kinds of submissions. I do a lot of leg submissions.
Finisher: Top Rope Bulldog.
Biggest Allies: There's not too many of them in wrestling!
Most-Hated Enemies: Fetish; Samantha Steele; Joshua Masters; The Soviet.
Toughest Opponent(s): I have had a lot of tough opponents, but I won't let them know who they are because I don't want them thinking they got the best of me...since they haven't!
Career Highlight: Winning my first gold!
Favorite Wrestlers: First and foremost, Bret Hart. I love him! He is who I look up to every day in and out of the ring. Also: Shawn Micheals, Melina, Natalya, Beth Phoenix and Victoria.
Wrestling Ambition: I think just about everyone when asked this says the same thing: They want to get to WWE. And that's the way it should be. That is when you know you are at the top. I would love the opportunity to work for WWE, but I would also really love to work with TNA. They've got a strong Women's Division with many opportunities to perform.